GARSIA
Presentation
The cap of the day is a special one as it's a 6 panels hybride baseball cap, this very cap is made of 6 panels like a standard custom baseball cap, except that the front panels aren't sewn beside each other but one on top of the other, the lower one being almost rectangular and quite large. The closure is a cotton strap with metal buckle.
 
Focus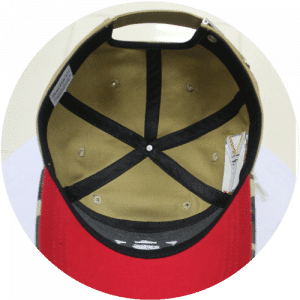 With his hybrid 6 panels baseball cap, the client went for a military look with the use of a khaki cotton along with a camo print on the top visor, contrasted with a red under visor.
We added various embroideries and prints all around the cap, the inside of the cap is left clean with only a branded woven label placed on the sweatband and our premium buckram to ensure a perfect and durable shape.

Who's Garsia ?
Garsia Co is a headwear brand based out of Philadelphia, PA. Garsia Co is the name that matches their design aesthetic. Garsia is believing in something that might be the opposite of you. Their goal is to make their products your favorite pieces to wear. They want their products to be a mix of art and urban style.
Thank you for reading this !
We'll post more and more articules focusing on hats we've produced so stay tuned.
In the meantime, feel free to learn more about this kind of cap, right here !