Lead times and sampling
---
TURNAROUND TIMES
---

Sampling 15 to 25 days

Production 25 to 45 days

Delivery air (2-6 business days),
sea (15-45 days).
Rush order fee: we have developed a specific program called "Rush order" for urgent orders.
Please contact us directly for more information.
Turnaround starts when the deposit of your order is paid for and we have all information required to complete your order (all artworks, all shipping info, completed and approved templates , …). Please keep in mind delivery times when planning your orders.
Non-standard and complex orders may increase turnaround times. You are encouraged to ask your sales rep about actual turnaround times.
PRICING AND SAMPLING OPTIONS
---
We have three options if you want to get a sample:
---
Option 1
FREE
Order a hat from a previous production run
Order a sample of the style you want from our shop
Shipping costs (flat rates): $22 for France, $25 for EU and $45 for the rest of the world
Sample is not custom made to YOUR specifications
(Coming soon)
Option 2
Most popular
FREE
Receive pictures of your pre-production sample for free
Place an order and receive pictures of your pre-production samples
 We can also send you your pre-production sample, you only pay for shipping
100% custom made sample
Start Now!
Option 3
$45
Per Piece
Create and receive your own sample
Get your very own sample before you place an order
 Worldwide shipping costs (apply up to 4 samples / shipment): $55
100% custom made sample
Create my own sample
Important: sample fee (excluding shipping costs) is refunded when ordering more than 299 pcs / style for each sample. For commercial samples pricing please contact us.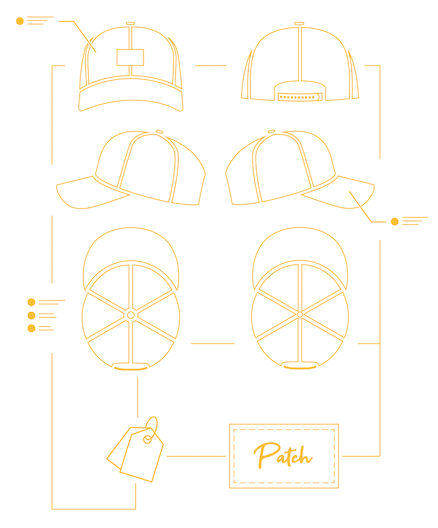 Template completing fee: free when placing an order or $50 when ordered alone (refunded when placing an order).
Logo vectorizing Fee (if needed): free unless your artwork is complex.
Logo digitizing Fee: free.
Embroidery, custom inside taping, etc: no setup fees.
Woven label: $90 gets you 1000 pcs (MOQ); we can stock or send the leftovers.
Stamped, leather and PVC patches: if you order a sample only that features a stamped patch, we have to charge a one-time mold fee of $90.
Rush order fee: we offer the possibility to rush your order; the fee is based on your deadline as well as the nature of your order.