SHEEPSHEAD
Presentation
We produced this 5 panels snapback unstructured for the brand Sheepshead. This hat is truly unique thanks to the fabric it uses, lightweight nylon, along with a rope running on top of the visor. This rope matches the color of the embroidery, giving the hat a great look.
 
Focus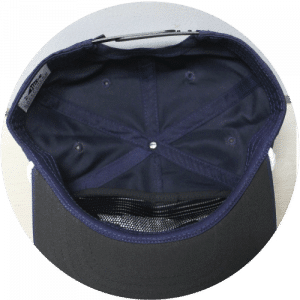 The main embellishment on this cap is the large flat embroidery on the front with the brand's logo. Like we just described, a cotton rope was placed on top of the brim. The brand added two labels for a professional finish, one at the back and one inside, both woven ones.
Let's now focus on the inside, for unstructured snapbacks like this one we have to find the perfect balance between a loose and relaxed shape and a weird looking shape, to do that we back the inside of the front panel with a mesh insert. At the same time it also allows ones head to breather which is a big plus for these summer oriented hats.

Who's Sheepshead ?
Since 2013, Sheepshead has been on an adventure to create your favorite hat. US based, the brand designs Headwear and Apparel to fit the Unconventional Lifestyle. Every Sheepshead Hat is equipped with features to accommodate you in the midst of adventure. Whether you need an all-purpose hat to partner with through college, the perfect hunting hat, or you just need a hat for raging at music festivals, Sheepshead's got you covered.
Thank you for reading this !
We'll post more and more articules focusing on hats we've produced so stay tuned.
In the meantime, feel free to learn more about this kind of cap, right here !