DIG IT
  Presentation
We produced this 6 panels baseball cap for the brand DIG IT. Entirely composed of premium cotton, it has a classic snapback closure.
It is a monochrome cap on the top but the underside of the visor reveals a hypnotic pattern of warm color.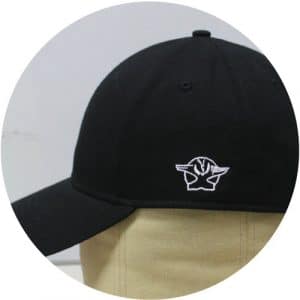 Focus
It is a black cap, plain, with white embroidery. A first flat embroidery was placed on the left panel, it represents the logo of the mark. Then, at the back, a second flat embroidery was added above the closure, with the brand's name.
Inside, a printed sublimation is present on the entire surface of the visor. The printed strips have been personalized with the colors of the sublimation to make a last color reminder with the name and logo of the brand.

Who's Dig it ?
DIG IT is a French brand born from a passion for the "revivals" of the 90s. The idea of ​​this brand was to think the collections by theme and collaborating with artists on various media and different mediums. It's inspired by urban culture, music, sports, art and also video games.
Thank you for reading this !
We'll post more and more articules focusing on hats we've produced so stay tuned.
In the meantime, feel free to learn more about this kind of cap, right here !