MAD DESIGN
Presentation
Gold Headwear offers a large range of different embellishment options among which you'll find all kinds of embroideries (from simple flat ones to glow in the dark puff 3D), prints and patches as well as metal logos, and much more. The cap of the day is made entirely of 280g cotton twill from our stock, it features lots of different prints and embroideries. The shape is a 6 panels snapback with black plastic closure.
 
Focus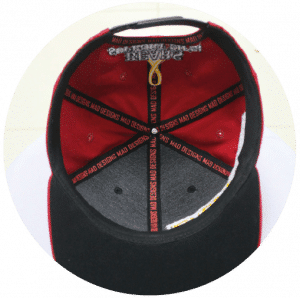 This cap is bicolor, with black front panels and red for the rest of the panels as well as the visor. Following the client's request, we added a large 3D/flax mix embroidery running on both the sides and front panels, making it a truly unique cap since this is something that can only be done on fully bespoke hats. All around the hats we added more flat embroideries. The final touch is a large high quality screen print on the front panels, meticulously assembled. The top visor is also screen printed with a red matching ink.
We printed the inside tapping on a black base to create a contrast.

Who's Mad Design ?
MAD Design is graphic design specialist and apparel supplier based in Rarotonga, Cook Islands.
MAD Designs is a family orientated business formed to cater the needs of the family and also to introduce the future directors to the world of business. MAD Designs provides them with the essential experience to excel in their career paths.
Check out their website at
Thank you for reading this !
We'll post more and more articules focusing on hats we've produced so stay tuned.
In the meantime, feel free to learn more about this kind of cap, right here !