DXPE CHEF
Presentation
We're glad to feature one of the most confortable shape we offer, the unstructured baseball 6 panels cap. Very original, this very cap is made entirely of mesh, from the visor to the body. The closure is a velcro one made to welcome patches of any kind
 
Focus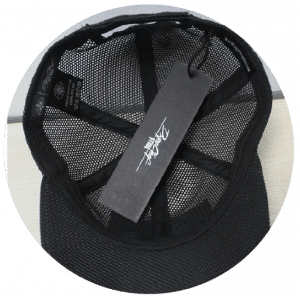 The fabric is what makes this cap truly unique, the client wanted to remain sober by using dark colors like army green or black. We added a front velcro made to welcome large patches which can easily be changed, like we did at the back on the closure.
Let's focus on the inside, we added different woven and satin labels on the sweatband, to finish, we added premium hang tags with the brand's name and moto.

Who's Dxpe Chef?
Scalpers est une marque espagnole de vêtement et d'accessoires casual, tel que des chaussettes, des sacs, des cravates, des ceintures et bien plus. Elle se consacre principalement aux hommes et aux enfants. C'est dans un style, chic, élégant et parfois décalé qu'ils se positionnent sur un marché ultra concurrentiel. La marque possède plusieurs dizaines de boutiques en propre.
Visitez leur site web pour découvrir leur univers.
Thank you for reading this !
We'll post more and more articules focusing on hats we've produced so stay tuned.
In the meantime, feel free to learn more about this kind of cap, right here !