DUB
Presentation
Camo has been popularize among the fashion industry in the 90s, since then many brands and artists played with the legendary pattern like it's the case on the cap of the day. This custom 5 panels camp is entirely made of laminated printed polyester. This kind of cap is almost never structured, people prefer them loose and comfy. The closure uses a nylon strap along with a classic plastic buckle.
 
Focus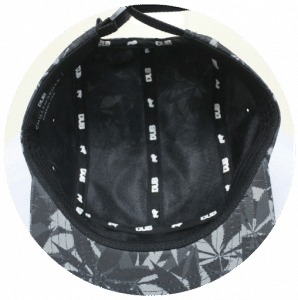 In addition to the all over sublimation print, this cap has different woven labels, one at the front and one at the back. The inside is finished with custom screen printed tapping as well as a branded inside label.
Quite simple in terms of embellishment options, the main feature of this cap is definitely the pattern used which is an adaptation of the classic camo for a weed oriented one.

Who's Dub ?
DUB is a UK based streetwear brand largely established within the BMX culture worldwide thanks to distributors all over the world, From Russia to Japan. Since it's creation 10 years ago, the brand now has a large team of riders and a heavy following on social networks.
Thank you for reading this !
We'll post more and more articules focusing on hats we've produced so stay tuned.
In the meantime, feel free to learn more about this kind of cap, right here !