BEE CLO
Presentation
Today we're pleased to feature one of the most confortable shape we produce, the unstructured baseball 6 panels. Made entirely of navy corduroy, this cap also features a self fabric closure with a silver slide buckle.

Focus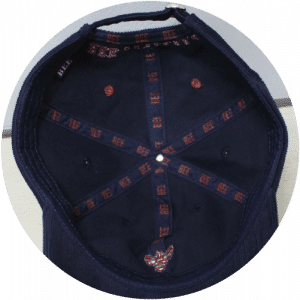 At the first glance, you'll notice the sharp flat embroidery with the brand's logo on the front. Another embroidery was placed at the back, right above the opening. What's pretty unique with this cap is the fact that the brand used different colors for the eyelets, while the front ones are matching the cap's color, the back ones matches the embroideries.
In the inside, we printed the tapping with the brand's logo using the same color as the embroideries. For the final touch we added a custom woven label on the sweatband.

What's BEE Clo ?
BEE is a menswear brand born in East London, Ben Crane, handyman and creator of the brand launched the projet four years ago with a philosophy to make clothes without compromise and a belief that you don't have to sacrifice style to enjoy protection from the elements.
What's unique about the brand is that they focus ont he autumn and winter seasons.
Thank you for reading this !
We'll post more and more articules focusing on hats we've produced so stay tuned.
In the meantime, feel free to learn more about this kind of cap, right here !