HALFWITS
Presentation
This custom cap is a 6 panels baseball unstructured. Made of cotton twill, featuring a self fabric closure with silver slide buckle. This baseball cap was produced in different color ways but we chose to highlight today the Burgundy option of this cap from The HALFWITS Co.

Focus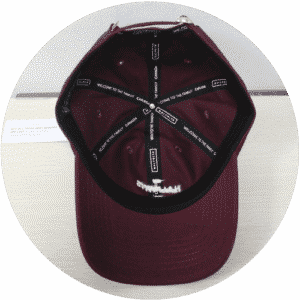 As long as the outside is concerned, there is a flat embroidery centered on the front while a woven label was placed at the back next to the closure.
In the inside we printed the tapping in white with the brand's logo, another woven label was added on the sweatband.
To finish, a hang tag with removable sticker was placed on the side eyelet.
What's Halfwits?
Halfwits is an up and coming lifestyle clothing brand from Toronto, Canada. Thanks to their unique collections inspired by the whole urban culture, they're now everywhere from the US to Sweden and even Saudi Arabia.
Check out their website and discover their world.
Thank you for reading this !
Stay tuned, we'll be highlighting more and more caps as frequently as possible through this new year.
In the meantime, get to know what's so special about our unstructured baseball caps, right here below !