---
Ordering with Gold Hats Headwear is easy
Placing a custom headwear order with Gold Hats is a relatively simple process, especially compared to the time consuming and complicated process that custom garments involve.
Just follow the easy steps below and you will be good to go:
1. Contact us
Get in touch through our contact form or send an email directly to info@gold-headwear.com with a detailed description of what you have in mind along with a tech pack (if possible). Don't hesitate to check our portfolio as well as our Instagram account to get a taste of what we do and how we do it. Keep in mind that our minimum order quantity is 100 pieces per style.
2. We get back to you
A Gold Hats representative will get back to you within 24 hours answering all your questions, you will also receive our general information file along with a folder featuring all our blank templates if needed.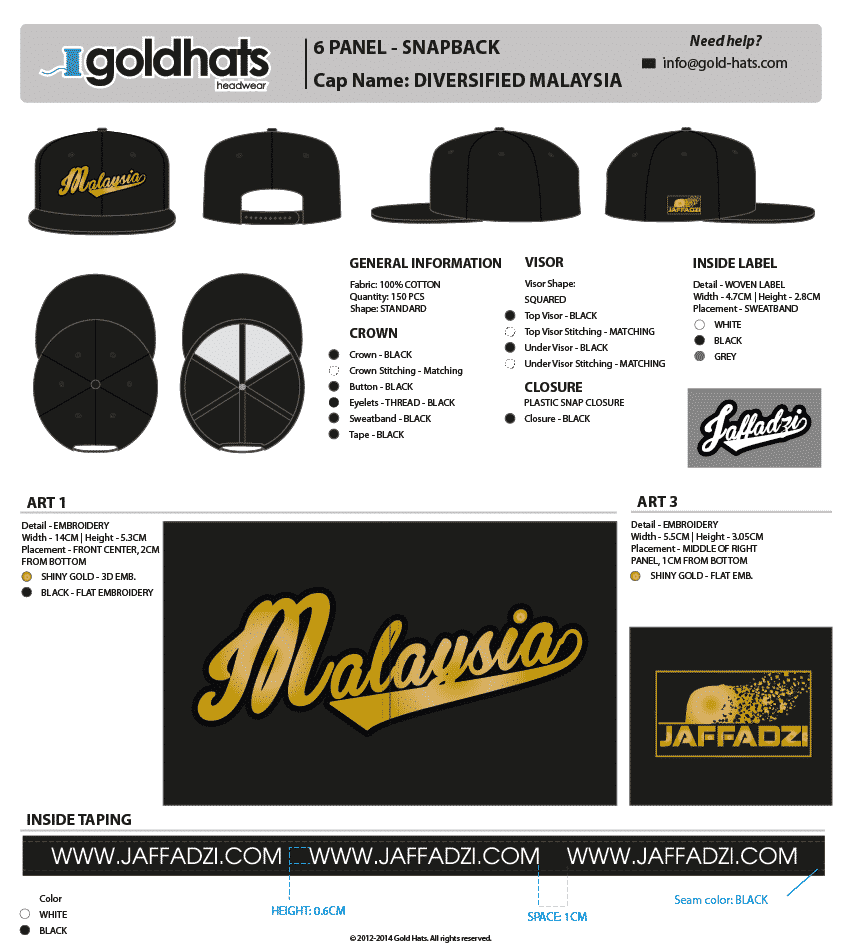 3. Send your template
Send us back your completed Gold hats tech packs in AI or PDF format. Sounds like a foreign language? no problem, we are here to help you!
4. Quote
Once all the details are finalized, you will receive a quote from your representative (if it has not been done already in step 2) detailing production costs as well as an estimate for shipping costs.
5. Production
Once all details have been approved (colors, artworks, pricing, …), it is time to go ahead and launch the production. You have two options then:
5.1 Order a sample: we charge $65 per sample (refunded when ordering more than 299 pieces per style) + shipping costs. Once the tech pack is approved, allow 15/20 days for the sample to be ready + a few days for delivery to your door.
5.2 Go directly for production: go ahead with the bulk production by placing a 50% deposit (shipping excluded), you'll receive high quality pictures of your pre-production sample at no cost. We can send it to you for an extra fee. The turnaround time for production is roughly 30 days, to which you can add the sampling time which is more or less 20 days.
6. Communication during production
Your rep will keep you informed about the status of your order, during the production you just have to sit back and relax. Take care of your job while we do ours!
7. Delivery
The production is now finished, we will ask you to confirm the delivery address once again in order to get the final shipping cost. Shipping is done immediately after reception of the 50% balance left + shipping costs. We can also use your own forwarder if you wish to.
Your turn now, get in touch and let us bring your project to life!